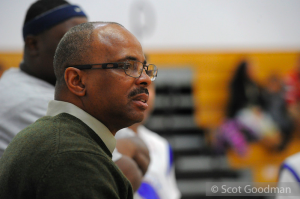 Details
Date of Birth:
April 23, 1954
Hometown:
Rutherford, New Jersey
Bio
Coach Paul Jackson (Milpitas, California) has been associated with the Golden State Road Warriors Men's Wheelchair basketball team (Oakland, California) since 1978. The team from its start in the bottom ten in wheelchair basketball to becoming the National Champions in 2001 and 2004.
Jackson was selected to be Assistant Coach for the 1984 Paralympic Wheelchair
basketball team, helping lead the team to three gold medals in international competition (1986, 1988, and 1990). Jackson is currently the chairman of the National Wheelchair Basketball Tournament Selection Committee and was a member of the International Players' and Coach's Committee for ten years.
Jackson attended and played basketball at Bentley College (Waltham, M.A.). He now works as a quality technician at Tyco Electronics in Menlo Park, California. In addition to basketball, Jackson enjoys scuba diving, gardening, and working out.
Major Achievements
International Coaching:
2008: Assistant Coach USA Men's Paralympics Basketball Team (Beijing China)
2007: Gold Medal- Assistant Coach USA Men's Para- Pan Championships (Rio Brazil)
2006: Silver Medal – Assistant Coach USA Men's World Championship team (Amsterdam Holland)
1995: Head Coach USA Men's Basketball team to tour Spain.
1990: Gold Medal – Head Coach USA Men's Basketball team, Pan American Championships (Caracas Venezuela)
1988: Gold Medal – Assistant Coach USA Men's Paralympics Basketball team (Seoul, South Korea)
1986: Head Coach USA Men's Gold Cup Basketball team, Melbourne Australia, Gold Medal
1984: Assistant Coach USA Men's Paralympics Basketball team, (Stoke Mandeville England)
NWBA Coaching:
2013: Fifth place – NWBA Nationals
2012: Third place – NWBA Final Four
2011: Fourth place – NWBA Final Four
2007: Third place – NWBA Final Four
2004: Div. II National Wheelchair Basketball Champions
2002: Second place – NWBA Final Four
2001: National Wheelchair Basketball Champions
2000: Head Coach Western Grizzles Women's Wheelchair
1998-1999, 2003-2004 and 2007: Selected West Coach for the NWBA/ NBA All-Star Weekend
1999: Third place – NWBA Final Four
1997-1998, 2002, 2004: Second place – NWBA Final Four
Awards:
March 31, 2007: National Wheelchair Basketball Hall of Fame
2001: "Bill Duncan Good Guy Award" winner